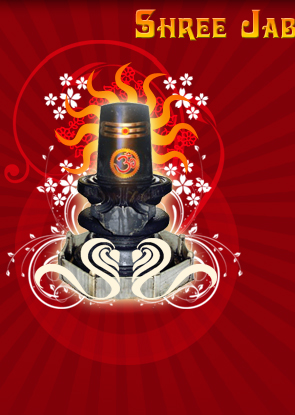 In 2008, the Shraavan Mahotsav Celebrations were successfully completed with great pomp and glory. One of the main parts of this celebration is "Maha Rudrabhishek" whose preparation and completion needs the active participation of 108 Pandits, so in the year 2008, this august ceremony was held on 24th August. It started with Ganesh Laxmi Pujan at 10 in the morning and went on with Hawan, Aarti and Vitaran of Baba Ka Prasad etc.
After Baba's Maha-Rudrabhishek with various liquid thing such as, Coconut Water, Various fruit juices, Ghee, Gangajal, Milk, Essence, Rose Water and other things including Yoghurt, Lotus flower, Bilva Patra etc with chanting of Mantras continuously going on, Shringaar of Jabreshwar Baba is done.
After this when the devotees do the Shringaar of Jabreshwar Baba with Kamal Pushp and Bilva Patra, then first the Pandit tie, a new Dhoti to Baba and after this on the top of Shivling, Chandan - rice & Bilva Patra are smeared and on top of them a Gamaccha(towel) is kept and after whole days activity when the Shringaar is removed chronologically, including Gamacha, then the devotees take some smeared Chandan, on their forehead, as a blessing of Jabreshwar Baba.
In the Maha-Rudrabhishek of year 2008, and divine incident took place, which is described as below:-
After all the activities of Shri Jabreshwar Mahadev had been successfully and devotionally completed the devotees started removing the Shringaar but when they removed the Gamacha, they saw something which left them spell bound in happiness. The Miracle(chamatkaar) that happened was that the part of the Chandan which was haphazardly smeared on the top of the Shivling had now taken the shape of Om on the Gamacha.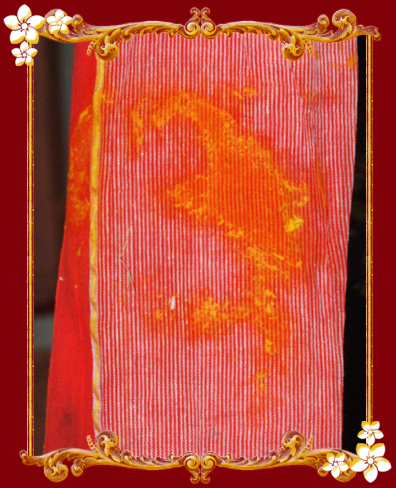 After this devotees in huge numbers came to have a darshan of Gamacha and on that very day a decision was taken by the devotees that the "Gamacha Om" would be framed in a Silver Frame and on the auspicious occasion of Vijayadashmi the same would be established in the Mandir. On the very next day, due to huge pressure from devotees, the "Gamacha Om" was kept open for Darshan, and media also covered that event.
Satisfied with the devotion of his devotees, Baba Jabreshwar Mahadev made his presence felt in this way and even today the devotees go to the Mandir to have a Darshan of "Gamacha Om" and worship it.