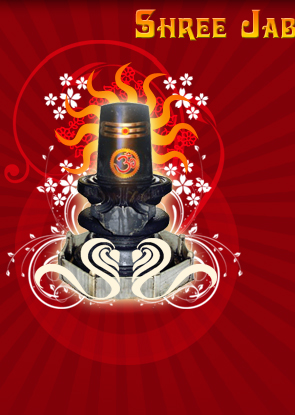 The month of Shravan,is also known as Sawan Mas. It is also the first month of Chatur Mas - the four holiest months in Hindu Hindi Calendar. Each day of Sawan is regarded as very pious, Special prayers and rituals are performed in Lord Shiva temples. Mondays or Somvars of Shravan month are specially observed with austerity. All Mondays are devoted to the worship of Shiva as this day is sacred to Lord Shiva.
Shravan has a special importance as it ushers in a host of auspicious days and festivals like:
Naga-Panchami Kalkyavatara, Putradaikadashi Hindola or Swinging Narali Purnima, Shravani Purnima, Pavitraropana Raksha Bandhan Vara Lakshmi Vrata, Rishi Panchami, Govatsa.
When Celebrated:
Sawan, is the fifth month of the Hindu calendar. Each Monday of this month, known as Shravan Somvar, is a special day in Shiva temples.
Occasion:
The legend says that when the churning of oceans - Samudra Manthan - took place in the month of Sawan,, fourteen different types of rubies came out. Thirteen of these were distributed amongst the demons, except HALAHAL (poison). Lord Shiva drank the Halahal and stored it in his throat. Hence the name Neelkantha (meaning blue throat) is attributed to Shiva.

To reduce the strong effect of poison, Lord Shiva wore the crescent moon on his head. All the Gods, thereafter started offering the Ganges water to Lord Shiva to make lessen the effect of poison. It is said that the gods in Hindu pantheon assembled to witness this holy act of Shiva.

Since, this happened in the month of Sawan, devotees offer the Ganges water in this month.
Celebration by Devotees:
The main Shravan Puja is the worship of Shivling with Gangajal, Many devotees collect Gangajal and offer it to ShivLinga. They have to follow many strict rules while observing this ritual, like walking bare foot, taking Shiva's name thought etc.

Many Shiva devotees observe strict fast for the whole month of Sawan and many observe only on Mondays. Many people observe different vows during the month like having only vegetarian food, or reading a particular Holy Scripture on all days of the month.
Celebrations at Shree Jabreshwar Mahadev Mandir
The month of Saawan is another occasion where month long celebrations are done.. In this month daily different Shirngars are done and special Shringars are done on Mondays and Rakhi Purnima, the last day of Saawan. Baraf-ka-Shringar (Ice shringar) is very famous among devotees. Now a days Bhaang ka Shringar is also very popular. The month long celebrations of Sawan Mahotsav, in our Temple, are celebrated in following ways:

Kaavad Kaaryakram: During this month devotees pour Ganga Jal on Shiv Ling, which they bring from the sacred river Ganga(Hooghly). Firstly devotees take bath in the Ganga ,then sacred Ganga Jal, is taken into two earthen pots, tighten on Kaanvad with the help of Chinka (specially designed rope), thereafter Kaanvadiyas (name given to devotees who carry Kaanvad) perform puja of Kaanvands and then carries them on their respective shoulder and march towards Temple bare feet. Throughout the way to temple they chant the name of Bhole Bab in different ways, like "BOL BAM - JABAR BAM", BHOLE BABA - PAAR KAREGA".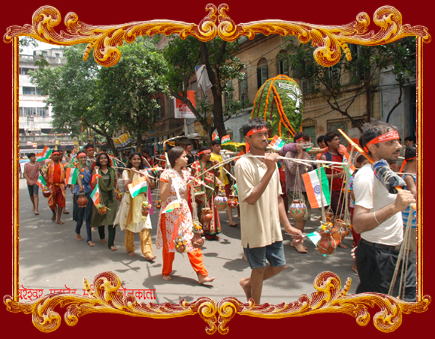 On the decided day devotees (including ladies and children) assembles in Mandir premises and together they went to Ahirtola Ghat (Near Baba Bhootnath Temple), performs the above mentioned rituals and in a very systematic way they march towards Shree Jabreshwar Mahadev Mandir, continuously chanting Bhole Baba's name.
In those devotees few are those who bring Ganga Jal on Kaanvad, daily in Sawan Mas without fail and worship Baba Jabreshwar.

Shringaar:
Daily Shringar: In the month of Sawan the special Shringaar of Baba Jabreshwar Mahadev is done daily. The devotees register their name for sponsoring Shringar in a book kept with Panditji, according to availability.
Monday Shringar: Apart from daily Shringar, the Temple is decorated along with surrounding areas are illuminated with colourful lighting etc. on each Monday of Sawan Mas and on Rakhi Purnima. The very attractive and unimaginable Shringars of Baba Jabreshwar Mahadev is done, such as Baraf ka Shringar Bhaang ka shringar, etc.

Bhajan Kirtan: On every Monday of Sawan and on Rakhi Purnima, Bhajan Kirtan and devotional music programme is organized which starts immediately after Sandhya Aarti and continues till Shayan Aarti, in Temple premises.

Maharudrabhishek: Maha rudrabhishek along with Yagna is performed during the eve of Sawan. When Lord Vishnu incarnated as Sri Rama, he established Shiva Linga at Rameswaram before crossing the sea and performed Rudrabhishek to express his devotion to Lord Siva.This Pooja, where Lord Shiva is worshiped in His Rudra form, is hailed by all Vedic scriptures as one of the greatest Poojas to remove all evils, to attain all desires and for all round prosperity. The Maha Rudrabhishk is particularly performed for the sake of washing away ones sins and afflictions, for bringing peace, propsertiy and happiness, along with family togetherness.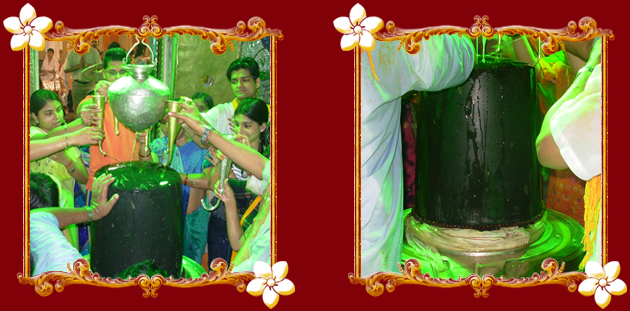 Rudrabhishek protects devotees from evil forces & possible dangers. Rudrabhisheka is a form of ritual worship in which a Shivalinga is bathed in water which is continuously poured over it, to the accompani­ment of the chanting of the vedic mantra called the Rudra Suktha. Abhisheka is the worshipping ritual of the God in which substances like Cow's milk, Ghee (clarified butter), curds (Yogurt), honey, finely ground sugar, sugar cane juice, coconut water, water, rice and similar items, which are believed to be dearer to Shiva are poured on the Shiva Linga.
More than 101 Vedic Brahmin Pandits assembled in Temple Compound and alongwith other devotees, perform the Abhishek of Jabreshwar Mahadev in a very systematic and traditional way. The Abhishek Starts with the Ganesh Laxmi pujan in the morning. Through out the day the Abhishek of Baba is done with various substances as mentioned above. Thereafter the Bhavya Shringaar of Shivlinga is done with the Lotus flowers and Bilva Patra. Towards the end Yagna is being performed which is followed by 108 Divya Aartis by devotees. This yagya gives a miracle result to bestow prosperity, fulfillment, and removal of negativities, purify the negative karma & give the protection in life. The whole event is concluded by Pandits and devotees taking Bhojan rupi Prasaad.

108 Mahadev Darshan: In the auspicious month of Sawan, a holy trip to 108 Mahadev Mandir (Burdwan situated) is organized every year. The 108 Mahadev Mandir is situated in Burdwan (West Bengal) approximately 100 km away from west of Kolkata. There are 108 individual Temples of Lord Shiva in a Compound extended over a large area in Burdwan. Every year on a pre decided Sunday in the holy month of Sawan, devotees happily and enthusiastically participate in this holy trip with family and friends to to receive blessing from Lord Shiva. Minimum four buses full of devotees proceed Burdwan for darshan of 108 Mahadev Mandir in the morning and returns in the evening.